Choice Hotels®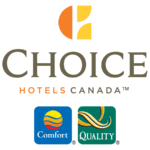 Get More Rewards Card is partnered with Choice Hotels® to make Business & Leisure travel a little more enjoyable and convenient – and save up to 15%!
If you already have your coupon code, Click Here to Book Now. If not, click here to download your coupon code. You will need to log in to the Get More website before you can download your coupon code.
About Choice Hotels:
To give you some background, Choice Hotels® includes Comfort™ , Quality®, Clarion® and a few others like the upscale Ascend Hotel Collection®. There are over 325 Choice locations spanning all provinces – and over 7,000 worldwide. Hotels are conveniently located near major airports, key highways and business districts. You'll also be able to connect easily with colleagues and friends using free high-speed Internet, and jump-start your day with free breakfast at most locations.
The faster way to rewards.
Earn a welcome bonus of 500 points* when you sign up for the Choice Privileges rewards program and another 500 bonus points after your first stay. Sign up at www.choiceprivileges.com/signup/CNB2B to receive the bonus points. With the Choice Privileges® rewards program, collect points quickly to use towards free Choice Hotels stays worldwide, Aeroplan® Miles, luxury resort stays, gift cards and much more. It's free to join and remember to enter your Client ID# in your Choice Privileges profile.
That's just one more way The UPS Store delivers more for Small Business.