How to Ship Holiday Gifts Safely During Covid-19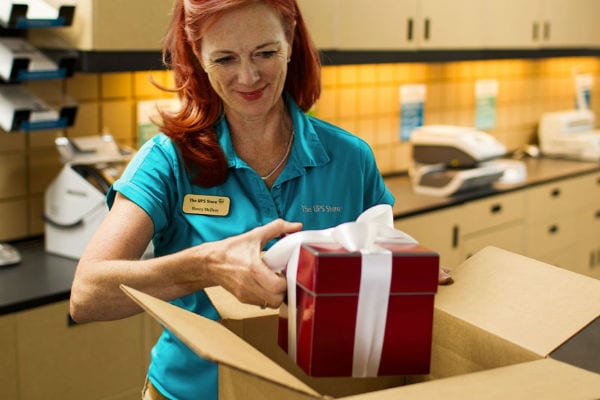 At The UPS Store, we are strongly dedicated to the health and safety of our customers, employees, and communities. To help prevent the spread of COVID-19, The UPS Store is following all health advisories and enforcing all necessary safety protocols and measures. Whether you're shipping packages or receiving them, we are doing everything in our power to protect your heath. Here are some helpful tips for safe shipping this holiday season.
If you need to send packages, there are two COVID-19 safe shipping options available at The UPS Store:
Full-Service Packing & Shipping
The full-service option allows you to bring the item(s) you would like to ship to The UPS Store. Here we have strict safety protocols in place for you and our associates. The UPS Store has implemented physical distancing and a variety of other safety measures. All our locations have signage and floor labels to remind customers to stay apart. We also have added barriers at our counters and strictly enforce mask wearing indoors.
To protect your items from damage in transit, we offer a full-service packaging & shipping service. Our Certified Packing Experts will protect your shipment from damage using the appropriate technique, corrugated shipping container, and interior cushioning materials specific to your item(s). We will offer you a selection of courier options and help you complete the paperwork.
Do-It-Yourself
Many customers prefer to do the packing themselves and bring their packages to The UPS Store for shipment. As a customer, you would need to provide your own packing supplies and package the items individually and safely before placing them in a box and sealing for shipment. The UPS Store carries a large assortment of corrugated shipping cartons, cushioning material, and carton sealing tape.
You can help to ensure that your package arrives safely and on time with these packaging guidelines and procedures.
Use a rigid box with flaps intact
Remove any labels, hazardous materials indicators, and other previous shipment markings on the box that are no longer applicable
Wrap all items separately
Use adequate cushioning material
Use strong tape designed for shipping
Do not use string or paper over-wrap
Use a single address label that has clear, complete delivery and return information
Place a duplicate address label inside the package
In addition, consider wrapping items in plastic, as it's the easiest surface for recipients to wipe down on arrival. We also recommend shippers wipe down items with disinfectant wipes prior to packing to help prevent the spread of germs, and wear gloves (or fully washed hands) while packing items. Once complete, the shipper can bring the package to The UPS Store to complete the delivery.
Consider Shipping Options That Offer More Time In Transit
The longer an item is in transit, the less likely there will be any viable virus on the package. The amount of live virus decreases over time on a surface, so the risk of infection from touching something that had the virus on it for a few days (or even a few hours) would lessen the risk. Research has also shown that the survivability of the virus depends on the type of surface it lands on. The live virus can survive from a few hours to a few days. Here's how the virus typically lasts on common surfaces, but it can change depending on sanitation efforts, sunlight and temperature:
Glass – 5 days
Wood – 4 days
Plastic & Stainless Steel – 3 days
Cardboard – 24 hours
Copper Surfaces – 4 hours
Though cardboard is one of the most common materials for shipping, it has microscopic holes in it that makes it not very hospitable to the virus. Unlike plastic and stainless steel, the virus typically lasts less than a day on cardboard and fabric.
Safer Package Receiving
If you're expecting packages and are uncomfortable accepting deliveries at home, The UPS Store can offer a safer alternative. Have packages by any courier delivered to The UPS Store nearest you and pick them up when you are ready. We will accept and hold packages from any carrier, and you only pay for any packages we receive on your behalf. This must be prearranged with your local store. Consider this parcel receiving service as an option for reducing visitors to your home or eliminating packages left on your doorstep.
Both The World Health Organization and the Public Health Agency of Canada say it is safe to handle all mail and packages, both nationally and internationally. The UPS Store can make your shipping during the pandemic easy, quick, and safe. Visit our stores or website to learn more about our packing and shipping options.