FRANCHISING OPPORTUNITIES
Call us: 1.800.661.6232 or
Enter your information below and a member of our franchise team will get back to you.
Looking for the right business opportunity? Consider joining one of the world's most respected and well-known brands in a franchised retail environment. Consider also the security of joining an innovative network with more than 30 years of retail and franchising experience. Consider The UPS Store®.
When people think of The UPS Store®, they immediately think of shipping. What many don't realize is that, in addition to convenient access to UPS direct shipping rates, The UPS Store® offers an array of small business solutions in neighbourhoods just like yours. In addition to domestic and international shipping, our offerings include digital print and copying services (both B&W and colour), document finishing (binding, laminating, etc.), product-specific printing services (business cards, postcards, flyers etc.), wide format printing (posters, banners etc.), full-service packaging, mailbox services, office and packaging supplies, and more. And when it comes to courier shipping, we are the only network of business centres to provide customers with real choice. Not only do we offer clients courier shipping through UPS, we are also the authorized shipping centre for other leading couriers including Canpar, DHL and TNT. So when it comes to printing and shipping services, the one place that people know they can turn to is The UPS Store®.
The UPS Store® interior is designed to promote a comfortable, yet professional business environment, with a contemporary appearance focused on products and services most needed by small businesses. Typically located in shopping centres and commercial complexes, The UPS Store® locations can also be found in special venues such as airports, convention centres and hotels. Location sizes range from 1,000 to 1,500 sq. ft. and stores generally engage a full-time staff of two or more employees, including the
owner/operator.
The UPS Store franchise offers a unique opportunity to individuals that want to be part of a powerful and globally recognized brand. Year after year, The UPS Store has been recognized as the industry leader in the business services franchise industry. If you are ready to take the next step and harness the power of the UPS brand, then we are ready for you.
The Power of the Brand
With more than 30 years of franchising experience and the foundation of a globally recognized and award-winning brand, The UPS Store® has helped hundreds open franchises to become their own boss.
Incredible Benefits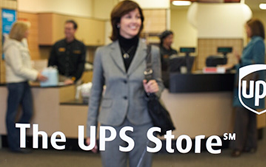 Brand strength, national advertising, world-class training and dedicated support are just a few of the many benefits available to The UPS Store® franchisees. Learn all of the ways you can benefit by becoming a part of our franchise community.
The Joys of Ownership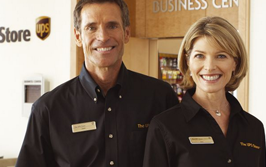 The UPS Store® franchise owners are backed by a proven franchise model and a globally recognized brand that has grown to over 355 locations in Canada and over 4,300 locations in the U.S. Now it's your turn to become a franchise owner of The UPS Store®.
Get Started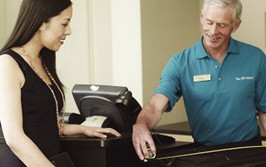 With locations located across the nation in both small and larger markets, our Franchise Development team will help you find the perfect spot to open your own The UPS Store®.